I B Rad


Some hold I suffer from 'food insecurity',
unwittingly intimating an infirmity of mind
rather than an affliction of the stomach.
Still others urge, 'waste not want not'
for 'a penny saved is a penny earned'
but as I've not got 'a pot to pee in'
or 'two nickels to rub together'
and 'you can't squeeze blood from a turnip',
I truly don't have much to waste,
let alone save.
Even more say,
'where there's a will there's a way',
that 'God helps those who help themselves',
and 'a stitch in time saves nine',
and then, duped by such proverbial wisdom, ask
why I didn't 'head it off at the pass'.
Well my answer's 'out of the blue',
I got hit by the unexpected
and couldn't recover,
so that's why 'it's come to a sad pass'.
Yet, if folks like me register at all -
generally it's 'out of sight, out of mind' -
these Good Samaritans claim
we infest

their

city's slums
because 'misery loves company'
and 'birds of a feather flock together'.
Then, 'to add insult to injury',
they demonize and 'tar and feather' us
as 'welfare queens' or 'public enemy number one'
and jibe we're poor because
'a fool and his money are soon parted'
or that we're invariably
'a day late and a dollar short'.
Of course, it's a 'red herring'
for which a true retort is,
'You can't judge a book by its cover',
but when I protest
they just jabber on with
'if the shoe fits, wear it'
and 'a rose by any other name
smells the same'
or, if it truly bothers me,
I should suck it up
and not 'make a mountain out of a molehill'
and that, 'Sticks and stones
may break my bones
but words will never hurt me'.
Well, in the end
I'd like to 'paint a pretty picture',
but there's little to be had
from whitewashing the truth,
so rather than 'candy coating' poverty
by romanticizing its consequences,
the long and short of it's,
'You can't make a silk purse out of a sow's ear'.


* Any inspiration derived from Pieter Bruegel's paintings, "Netherlandish Proverbs" and "The Fight Between Carnival and Lent" is joyfully acknowledged.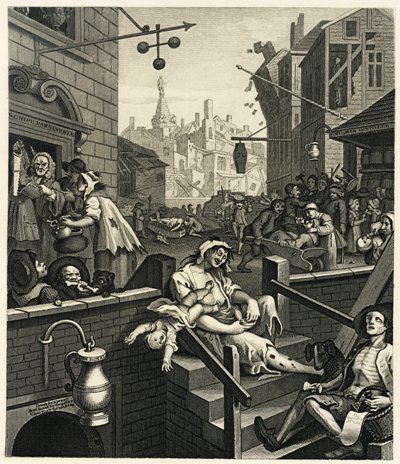 Willian Hogarth, Gin Lane
Issued in support of the Gin Act of 1751