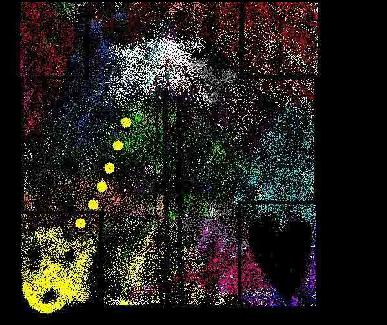 Smudge and reapply
Alizarin crimson lips
-- a heart-shaped box
of shiny candy. Morsel
by morsel extraction of words.
Obscure paint colors recreate
an exquisite ache.

The dazzle of sizzling
daubs. An inky massacre against
an antimacassar-like backdrop.
Thread hot baubles. Invent exotic accidents
to cover glossy pink scars. Scissors
can slash more than pastel paper
dolls. Bat wings from the corners

of tearing eyes. Force open lid and line
with sticky pigment. Experiment
with beads unstrung. Multi-hued
breadcrumbs. Soothe heartache with ornate
swirls of confection. A crafted sigh, a sultry
pose, a crackle-glazed repose. A swoon
gift-wrapped in edible red velvet.